CERN and the risc of the destruction of the earth through a micro black hole
this was found in space with Hubble: a black hole in a solar system !
I think it is possible that in this solar system once was a planet full of live and in a possition simular to the position of earth to the sun.
It looks like someone has build a LHC bevore us !
The old descriptions of the hell are also compatible with the cataclysms created by a black hole.
Also Mohammed has sayed something over the last days of our planet. And it looks like this is now.
Maybe the position from the matter has changed because of the transformation into black hole matter
or water falling into the planet has caused thrust by massive gas blowout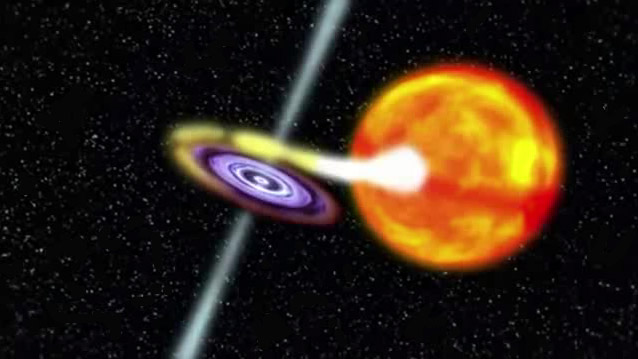 This image shows a simulation of a black hole in a solar system - the position of the black hole is not far away from the sun.
The simulation is based of particles (images) received with Hubble or other telescopes.
It is a simulation because black holes are not vissible. Theire was seen an massive glowing gas movement.
It is impossible that they have had 2 suns in theire solar system - so this black hole is maybe made by a previous proton destroyer (like LHC).
That is also the reason why Mohammed and other religious leaders which can hear the thoughts of theire gods (- aliens and living energy forms)
can report so much about what will happen when we create a black hole here -> the hell (not planet hell) - the problem is:
theire is a verry verry smal probability to be beamed up to the space ships - to get to heaven.
Everyone now has a handy and can be analyced but only a few can be saved <1/999999 - that means You will dy - rounded 100,000 % sure !
So You better start protesting !
That is one of the reasons why i am for a destruction of LHC - but the particle detector can be used for other - useful science
- for example construction of better quad junction solar cells with a upper efficiency.
some alien solar cells are black and cold and have a efficiency of 110 percentage !
I like to have clean air and more oxigane in the air and not people risking our planet for the development of new weapons.
I have not found out what the tripple junction cells from Japan cost that are used in satellites.
unfortunetelly it is not posible to show the darkness of dark matter with a monitor
- because it will always be a light black ...

A black hole circling around a sun: black hole is shoting Energybombs
As far as i know it was discovered by the NASA of the USA.
---
---
you are now on the english version / für Deutschsprachige Seiten hier clicken:


jan@overthesky.net
owner of overthesky.net: Jan Meves, Minslebener Str. 66, D-38855 Wernigerode, Germany
-
-
-
-
-
-
-
-
-
-
-
-
-
-
-
-
-
-
-
-
-
-
-
-
-
-
-
-
-
-
-
-
-
-
-
-
-
-
-
-
-
-
-
-
-
-
-
-
-
-
-
-
-
-
-
-
-
-
-
-
-
-
-
-
-
-
-
-
-
-
-
-
-
-
-
-
-
-
-
-
-